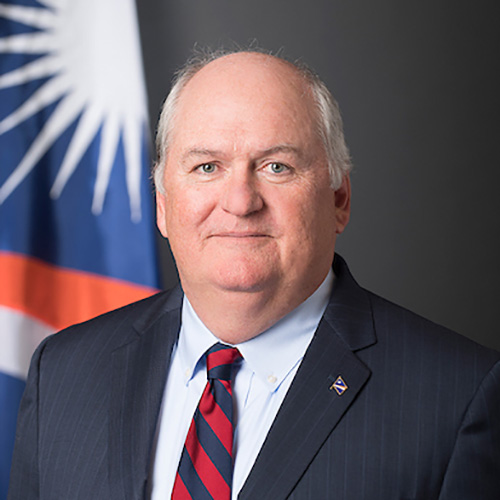 Mr. Gallagher, formerly International Registries, Inc.'s (IRI's) General Counsel, was promoted to President in January 2000. During his tenure as President of IRI, which provides administrative and technical support to the Republic of the Marshall Islands (RMI) Maritime and Corporate Registries, the RMI-registered fleet grew from 7 million gross tons (GT) in 2000, to more than 192 million GT by mid-2022. Under his supervision, the RMI Registry has expanded its network worldwide from 75 to more than 465 employees and opened 21 new offices in the last 22 years making a total of 28 offices, worldwide The latest offices opened in March 2022, in Qingdao, People's Republic of China and Vancouver, Canada.
Mr. Gallagher is at the helm of the leading quality registry in the world with both the youngest and greenest fleet. This is evidenced by the RMI's continued White List status with both the Paris and Tokyo Memorandums of Understanding, and its consecutive 18 years on the United States Coast Guard's Qualship 21 roster, which is unprecedented. The RMI Corporate Registry also boasts f 36 publicly traded companies, all engaged in shipping activities, on both the New York Stock Exchange and the National Association of Securities Dealers Automated Quotations. Since joining IRI in 1991, Mr. Gallagher has worked closely with the RMI government and its legislative agenda and has traveled around the globe meeting clients and speaking at corporate and maritime seminars. Furthermore, through his various roles, he implemented an ISO standard for the Maritime Services Group through which he was also in a position to learn the nuts and bolts of the organization of the Registry and engage in all aspects of the business. Prior to joining IRI he specialized in Legal Compliance in the securities industry. He has served as an intern in the United States Senate receiving an award as Intern of the Year and in the German Bundestag, where he enhanced his proficiency in the German language and political culture.
Mr. Gallagher received his Bachelor of Arts from Indiana University of Pennsylvania and his Master of Arts in International Relations from the University of Maryland. He earned his Juris Doctor (J.D.) at the University of Baltimore School of Law and is a member of the Maryland State Bar. He was honored by the Marine Society of the City of New York in April 2016, where he was also made an honorary member, and received the Emery Rice Medal in 2019 as the Maritime Person of the Year from Massachusetts Maritime Academy, which honors civilian or military leaders with a distinguished career of excellence, innovation, and service to the maritime industries. In 2022 Mr. Gallagher received two prestigious international awards; the 2022 Safety4Sea Leadership Award and The Maritime Standard (TMS) Awards International Personality of the Year Award.